By Margaret Hair
The Steamboat Pilot & Today




Gina Zedeck walked into her first Zumba class with years of ballet experience, some prodding from a friend, no background in Latin music and no idea what to expect.

Every Thurs­day morning since then, she's gone back.

"I didn't want to do it because I don't dance and I was afraid to do it. I haven't missed one," Zedeck said. She tries to bring at least one friend a week — most of them claiming not to know how to dance — to Zumba, a high-energy aerobic workout that combines Latin music and dance moves with a fitness routine.

On Friday morning, about 10 dancers of wide-ranging ages and levels of experience met at Northwest Ballet Studio for a rescheduled Zumba class, which regularly meets there at 8:30 a.m. Tuesdays and Thursdays. Starting Friday, the class also will be at Steamboat Pilates Yoga & Fitness from 1 to 2 p.m. Fridays.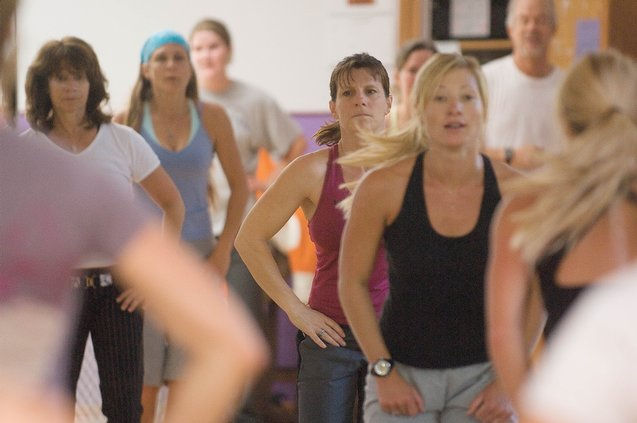 Instructor Renee Fleischer blasted R&B dance music from the stereo system and led the class in a warm-up, with easy-to-follow steps to get things going. After that, the Zumba routine slams on the gas, working through one up-tempo, Latin-flavored song after another with across-the-floor steps and aerobic moves. It's not easy, and it definitely helps to have some sense of rhythm, but you don't have time to think about that.

"It happens so fast. We all thought we would look like dorks, but you can't look at yourself or each other; you have to look at Renee the whole time," Zedeck said.

The dance class trend started in Colombia in the 1990s, with Zumba becoming a trademarked fitness brand in the early 2000s, gaining popularity through infomercials and dance-step DVDs.

Fleischer got interested in Zumba when a friend who owns a Front Range dance studio invited her to a class. She enjoyed it enough to go through a required Zumba Instructor Training Workshop and started teaching Zumba classes in Steamboat at the end of August. She also teaches jazz dance at Northwest Ballet Studio and spent a few years each as a San Diego Chargers Girl and a Denver Broncos Cheerleader.

Fleischer's Zumba routine changes every four to six weeks, she said. Friday's workout included a new routine with different music and a fresh set of challenges for Zumba regulars. It takes two to three weeks of listening to an hour's worth of quick-moving Latin tracks for Fleischer to choreograph a new class workout that will work for anyone, she said.

"You don't need to have any dance experience to follow the class at all," she said. "And the class changes every four to six weeks, so if you feel like it's a challenge at first, it definitely gets easier."

Zumba certified instructor Renee Fleischer brings her Latin inspired exercise regiment to the Steamboat Today morning show.Watch here.

If you go
What: Zumba dance-fitness class with Renee Fleischer

When: 8:30 to 9:30 a.m. Tuesdays and Thursdays, 1 to 2 p.m. Fridays

Where: Tuesdays and Thursdays at Northwest Ballet Studio, 326 Oak St.; Fridays at Steamboat Pilates Yoga & Fitness, 1104 Lincoln Ave.

Cost: $10 per class; 10-class punch cards are available

Call: Renee Fleischer at 970-390-1150

More information: Bring comfortable athletic shoes, water and a towel, and wear lightweight workout clothes to Zumba classes.