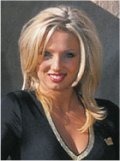 Jessica Smith, Formerly Jessica Mason-Evans of the Denver Nuggets Dancers, is now choreographing for and dancing with the Colorado 14ers Dance Team

Also…
Founded Studio 21 Dance in Golden, opened January 2009

Team 21 (the performance team for Jessica's studio) can be seen at the upcoming Denver Dance Festival March 15, 2009



Was crowned Miss Colorado Galaxy 2009 (also won "Best In Swimsuit", "Best In Evening Gown" and "Most Photogenic")



About the Director of Studio 21 Dance:


Jessica has been teaching dance in Denver since 1993 and studying dance for over 20 years. During this time she has studied with some of the best in the industry, including Mia Michaels, Shane Sparks, Dave Scott, Brian Friedman, Michael Chambers and Sarah Schachterle, current choreographer for the Rockstarz. During high school, Jessica danced for two seasons on her school's nationally ranked varsity pom pom team. Following graduation she danced for one season with the Colorado Rapids Cheerleaders and three seasons with the Denver Nuggets Dancers. During her time with the Nuggets, Jessica spent two seasons as the female lead in the Batman Stunt Show, fighting and falling off buildings! In 2007, she was crowned Mrs. Colorado International 2007 & is the current Mrs. Bear Creek. Through her work as Mrs. Colorado International, Jessica became an ambassador for St. Jude Children's Hospital. To further her work and enable other title winners to make the most of their title, Jessica founded a charity networking organization called "The Queen's Angels" . In 2008 she created the community organization "Project 21; After School, For School". Project 21 takes the Studio 21 message of "2 Parts Drive, 1 Part Dream" into schools and uses dance to teach life skills and goal setting.

As Jessica's interests continue to evolve, in 2008 Jessica competed in her first NPC Figure competition, placing 3rd in her division. Following her first love of teaching, in 2006 Jessica became the Director of Dance Education at Peak Athletics Plus in Highlands Ranch. Here she learned from the best on everything from marketing to studio administration. After putting together her first recital in 2007 and seeing the personal growth of her students, she decided it was time to realize her life-long dream of taking her vision into a studio of her own. As Mrs. Colorado International, Jessica found her voice as a role model for today's youth and wanted to take her message of Integrity and Positive Self Talk into the studio and use dance to teach goal setting. As the studio motto says "2 Parts Drive, 1 Part Dream", Jessica wanted to give her students the opportunity to succeed through life skill training and character development.


Miss Jessica is the mother of two beautiful children, Devin - age 9 & Nicky - age 3. Both are dancing fools who will surely be seen in the studio! Jessica has a diverse background including dance performance & instruction, pageantry, fitness competition, personal training & choreography, as well as an associates degree in psychology. Studio 21 has been Jessica's dream since she was a little girl, but it was her children that inspired her to create a studio that not only teaches dance technique, but also positive self talk and skills to succeed in life. As a dancer and a mother, she wanted to create a place for young dancers, former dancers and aspiring dancers of all ages.